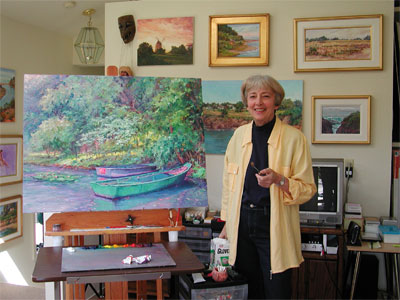 Hope Stevenson (1939-2015) was born in Puerto Rico and grew up in Mexico City. She attended the Chicago Academy of Fine Art and received a BA in Fine Arts from the University of Northern Colorado. Over the course of her career, Hope taught art and showed her work in galleries in various states, but her heart was in Mendocino, CA where she excelled as a plein aire knife painter and where she and her husband lived for nearly 20 years. Hope showed her work at the Highlight Gallery and the Mendocino Arts Center, and dedicated her time and talent to participating in and supporting the Mendocino art community.
Hope's talents crossed many media, including oil painting, water color, etchings, drawings and sculpture, but she is best known for her landscapes in oil using a palette knife. Stevenson used a palette knife to capture the character of the north coast in oil. Her textural surfaces and sense of color conveyed her obvious love for the area. Her style was semi-impressionistic. She preferred painting on site because it kept her work fresh and loose.
"Painting on site allows me to interact with the scene. The wind off the ocean, the hot sun, or the changing clouds directly affect my feeling for the scene and are apparent in the finished painting."
Hope taught art in the public schools, drawing and painting workshops at the Mendocino Art Center, Civic Arts in Walnut Creek, CA, the Bermuda Arts Center, the Hui No'Eau Art Center in Maui and private workshops in Kauai, HI, Baja, CA and various California locations.
Hope Stevenson has shown her work in Mendocino and other California cities, Washington DC, Colorado, Arizona, Hawaii, New Mexico and Oregon.
She was the recipient of many awards and enjoyed successes in numerous solo exhibitions. Her paintings can be found in important private, corporate and government collections throughout the United States and abroad.
Enjoy some of Hope's artwork below

Resume Information
Background and Education:
Born in San Juan, Puerto Rico - 1939
Raised in Mexico City, Mexico

Attended:
University of Colorado - 1957-1958
Mexico City College - 1958
Chicago Academy of Fine Art - 1963

Degree:
B. A. - Fine Arts - University of Northern Colorado - 1970
(Admitted to Master's Program in Fine Arts - l980)

Art Teacher:
Eaton School District, Eaton, CO - 1970-1982

Professional Artist:
1982 to present
Currently teaches workshops in California and Hawaii.

Art Shows and Awards - Oils:
AAUW Art Mart, Greeley, CO - l975, l976, l977 - Jurors' Choice Award, l977
Gilpin County Art Show, Central City, CO - l978
Thompson Valley Regional Juried Show, Loveland, CO - 1st and 2nd, Oils, l978
Poudre Valley Regional Juried Exhibit, Ft. Collins, CO - 1979
High Plains Regional All-Media Juried Show, Greeley, CO - 1980
Northern Colorado Invitational Show, Greeley, CO - 1979-1985
Grasslands Rendezvous National Juried Show, Greeley, CO - 1985
Professional Artists of Colorado Art Show, Colorado Springs, CO - 1985
Niwot Gallery Invitational Show, Longmont, CO - 1st and Best of Show - 1986
Stampede Art Show, Regional Juried, Greeley, CO - Jurors' Choice Award, 1987
The Best and the Brightest Show, Scottsdale Artists' School, Scottsdale, AZ - 3rd, Oils,1987
Landscapes:Euro. & Amer. Perspectives, Carega Foxley Leach Gallery, Wash.D.C.-1989
Mendocino Art Center-several group shows including juried shows and awards, 1991-2000
Mayor's Choice Show, Carmel, CA - 1995
Mendocino Art Center Juried Membership Show - Ist (Top Award), 1999; Hon. Mention, 2000
Landscape Interpretations: Redwood to Oak-Ocean to Stream, Grace Hudson Museum, Ukiah CA,
April - July 31 2005
Hope Stevenson's unique palette knife technique continues the tradition of California Impressionism in all its
bright and colorful glory. Her work compares in style particularly well to that of Edgar Payne
(1882-1947)


One-Woman Shows:
Maxims of Greeley, CO - May, l983
Niwot Gallery, Longmont, CO - August, l986
Haggenmaker Gallery, Laguna Beach, CA - January, 1988
Doug's Hang-Up, Greeley, CO - December, l989
Highlight Gallery, Mendocino, CA - Yearly since 1988
Smith Cosby Gallery, Carmel, CA - Featured Artist Show, Carmel Art Fest. May 1995
Gallery 10, Mendocino Art Center - September, 2005

Commissioned Work:
Cover design for weaving booklet - l975
Set of ink drawings of Centennial Village for the City of Greeley (for note cards) - 1977
Ink drawings for St. Paul's Congregational Church, Greeley, CO - 1980
City of Greeley, new Recreation Center, oil painting - 1985
City of Greeley l989 Calendar, oil painting - 1988
Book cover painting:"Mendocino From The Beginning", Mendocino,CA, 1992
Knife Painting on jeroboam wine bottle for "Winesong", Mendocino, CA, 1994, 1995,1996
"Winesong" 1997 poster painting, Mendocino, CA, 1997
Private and corporate commissioned oil paintings